I am not really a big fan of New Year's Resolutions. I have a certain resentment, probably common to regulars at the gym, towards those who resolve to exercise in the new year and start showing up and using "my" treadmill at the time I have been going all along. I also tend to be more motivated to organize and change things about the time school starts in the fall.
That said, I have been thinking pretty hard about what has worked for me this last year, and what has not. I am proud of some of the things I have accomplished. You may remember this and this.
There is still so much more that needs to happen for my home to feel like a functioning, organized, easy-to-keep-up place of peace and tranquility. I know. Total pipe dream. But still, it's a goal.
So, anyway, long story short, I was thinking about the next step toward total organization, and not feeling very inspired, when I came across this: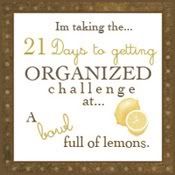 What could be better than someone else deciding what I should do on a particular day and telling me to do it? I'm sure this wouldn't be for everyone, but for me, it's perfect.
Join me, starting January 1st, at a bowl full of lemons. Let's see what we can accomplish in 21 days. I bet it's better than that diet you were thinking of, or going back to the gym. Yeah, you, stay off my treadmill. Get organized!